Here are some Reasons why DubaiFixit is the #1 Painting Service in UAE? Because this is one of the companies that is covering not in major Cities of UAE like Dubai and Abu Dhabi Dubai Fixit is also serving in other Cities like Sharjah Ras al Khaimah and all other small cities of UAE the this is an alone big reason you can approach us from all over UAE Branches.
Only The professional Painters Company of UAE
Affordable Services One Call Away
We Cover Floor Mask Doors & Windows Frames everything that required Masking or Covering.
After Painting We Clean the Place don't Leave a Mess.
Urgently Available even before one day's notice.
Other General Maintenance Fixing Furniture and Fixtures.
 Always use Quality and Eco-Friendly Paint (save for kids)
 Seven Years of Working Experience
Best Prices Adorable Painting Services
The satisfaction we ensure 100%.
Most Cost-Effective Painting Solution Provider In Dubai, Vila, Apartment, Home, commercial
Painting Services From AED 459. Home, Office & Villa Painting. Instant Quote & Free Survey. Interior & Exterior Painting, Door & Wall Painting. Spray Painting. 100% Satisfaction.
We are the best home painting service provider in Dubai, book our painting services now. Book Your Service with Us Now! Our Painting Services Includes. One of the Best Choices.
We deliver your dream home with our house painting and decorating service in UAE
We provide high-quality and professional painting and decorating services for all houses across UAE. We are here to transform and deliver the home you have always wished for and wanted! No matter the size or quantity of work, DubaiFixit Painter is here to offer a flexible, prompt, and quality finish to have the house of your dreams.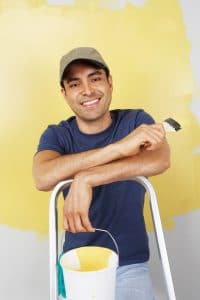 100%
Satisfaction Guaranteed
Safety & Security
We take your safety and peace of mind seriously. That's why all of our painters are background-checked, licensed, and insured. We also back all of our work with a 100% satisfaction guarantee, which means we're not done until you're satisfied only if you get the best painters services. Baseboards Villa Painting Dubai
Residential Exterior Painters Services
Specialized Painters for Every Job
Expert in Residential and Commercial Professional  Painting Services in Dubai All types of Painting Works.
Choose From Over 200 Color & Material Samples
Book Free Paint Service Visit Now to check, free color shades, and samples from Jotun Paint, Benjamin Moore Paint, Dulux Paint, National Paint, and All Major Paint Brands.
Free Quote & Consultations
You can Get 24/7 Mobile and What's app Painting Service Consultations and Painting Services Quotations for free in almost all normal conditions we give you immediate prices and solutions.
We are not limited to basic painting services we have a full range of services which make us even a better option than all our competition in UAE it's not like other companies showing in the profile all types of services we actually have experts for all services given blow you can read all of them here and you can order us via email: dubaifixit@gmail.com or What's an app at 0559181592 or simply call us 0566672688 any time for free visit and booking.
Interior Painting Services
MOVE OUT MOVE-IN PAINTING
STAINING & REFINISHING
CABINETS
VILLA PAINTING DUBAI AND ABU DHABI?
APARTMENT PAINTING
BEDROOM PAINTING?
Outdoor Painting Services
EXTERIOR PAINTING ASSISTANCE IN DUBAI
WALLS
DECKS
FENCES
PRESSURE WASHING
FURNITURE PAINTING
OFFICE PAINTING FACILITY IN DUBAI
SPRY PAINTING
Other Services
CURTAIN INSTALLATION SERVICE
WALLPAPER INSTALLATION
AIR CONDITIONING
EPOXY FLOORING PAINTING
ABOUT US
BASIC FAQ
If you are still not satisfied with all that we said here simple way to check by self check our google review online and see what our happy customers say about us. Special Thanks to Wall Painting Services in Dubai.